25 February 2017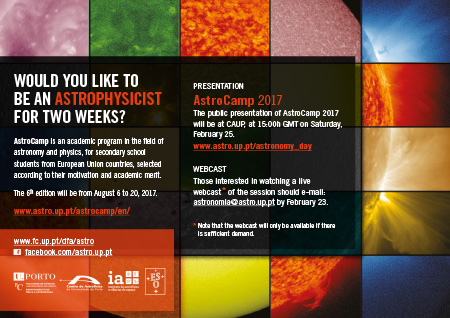 Presentation of AstroCamp 2017 and astrophysics training at U.Porto
On Saturday Fabruary 25th CAUP will host the 2017 edition of its Astronomy Day. This is a public session that includes the presentation of traning opportuniies in astronomy at Instituto de Astrofísica e Ciências do Espaço (IA) and U.Porto and examples of ongoing research projects. These presentations are done in Portuguese.
The session also includes the public presentation of the 2017 edition of the AstroCamp. This presentation will be done by the AstroCamp scientific director and by one of the students of the 2016 edition, and will be done in English.
If you'd be interested in watching a live webcast of this session, please send an e-mail to astronomia@astro.up.pt by February 23 at the latest. Note that the webcast will only be available if there is sufficient demand. In any case the session will be recorded, and the recording will be subsequently made available at the CAUP youtube channel.
This event will be broacasted live on http://live.fccn.pt/ia/seminario.
The schedule of the session is as follows (all times are GMT):
14:30 - 15:00
Training opportunities in Astrophysics at U. Porto and IA
Jorge Gameiro, Odete Alves (FCUP)
15:00 - 15:30
Public presentation of AstroCamp 2017
Carlos Martins, Núria Moreira (E.S. Almeida Garrett, V.N. Gaia)
15:30 - 16:00
Snacks and informal discussion
16:00 - 16:45
Examples of ongoing research projects
Andressa Ferreira, Filipe Pereira, Tomás Silva, Beatriz Gonçalves (E.S. Francisco Fernandes Lopes, Olhão)
16:45 - 17:00
Questions and closing
CAUP/Planetário do Porto
Saturday, 25 of February, 2017
14:30 - 17:00