1 to 7 June 2014, Angra do Heroísmo, Azores, Portugal
Observational cosmology is going through a particularly exciting period. A range of ground and space experiments are gathering an unprecedented amount of high-quality data, which may allow us to tackle enigmas such as the fundamental constituents of nature, the nature of dark energy and dark matter, the properties of primordial fluctuations or the possible existence of a stochastic gravitational wave background.
In order to fully exploit these datasets, one requires the interplay of a broad range of expertise, encompassing theory, phenomenology, high-performance computing, data analysis and instrumentation. This school will provide PhD students and young postdocs with state-of-the art overviews of these key issues, focusing on Euclid-relevant science. In addition to this training element, they will have an opportunity to present their own work and discuss it with world experts in the field. Attendance is limited to 40 students, who must apply by February 28.
SOC
Luca Amendola (Heidelberg)
Alain Blanchard (Toulouse)
Pedro Ferreira (Oxford)
Juan Garcia-Bellido (Madrid)
Martin Kunz (Geneva)
Carlos Martins (CAUP)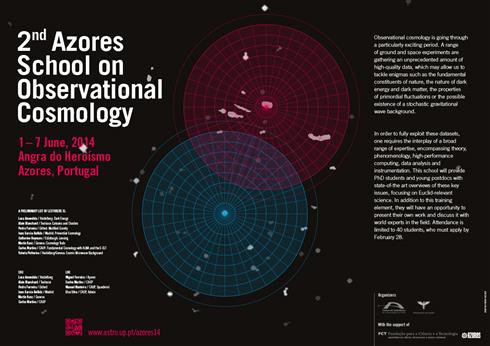 LOC
Miguel Ferreira (Açores)
Carlos Martins (CAUP)
Manuel Monteiro (CAUP, Sysadmin)
Elsa Silva (CAUP, Admin)