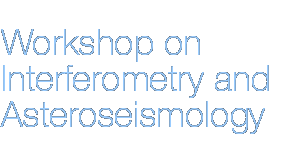 30 November to 2 December 2005
CAUP, Porto - Portugal
The main goal of the workshop is to identify and discuss the impact of Interferometry on different aspects of Asteroseismic studies, having in mind the currently available instruments and the instruments that will be available in the near future.
Structure
The workshop will have 5 sessions, each lead by a key speaker and lasting half a day. With support from the organizers at CAUP, the key speakers will coordinate the corresponding sessions. Each session will last about 3 hours, including time for coffee break and a minimum of 30 minutes for discussion.
Additional time will be allocated at the end of each day to produce the main contents of a reference document discussing important contributions of interferometry for asteroseismic studies.
Organization
This workshop is organized by Center for Astrophysics of the University of Porto (CAUP) with support of the OPTICON Working Group for Interferometry.
Local organizers
Margarida S. Cunha and Mário J.P.F.G. Monteiro
Scientific organizers
Conny Aerts (Lueven), Joergen Christensen-Dalsgaard (Aarhus), Margarida Cunha (Porto), Pierre Kervella (Paris), Mário Monteiro (Porto), Andreas Quirrenbach (Leiden)