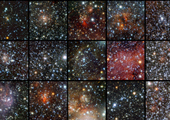 VISTA
is a 4-m class wide field survey telescope for the southern hemisphere, equipped with a near infrared camera (1.65 degree diameter field of view at VISTA's nominal pixel size) containing 67 million pixels of mean size 0.34 arcsec and available broad band filters at Z,Y,J,H,Ks and a narrow band filter at 1.18 micron.
The point spread function (PSF) of the telescope+camera system (including pixels) is designed to have a full width at half maximum (FWHM) of 0.51 arcsec. Seeing, and other weather realted statistics for Cerro Paranal are given at ESO's Astroclimatology of Paranal pages and the VISTA site is expected to have similar conditions.
75% of the VISTA time available to ESO will be available for large scale public surveys and the remaining 25% for smaller proprietary surveys.
VISTA data released for public use can be retreived either by the ESO data archive or
here
.
See also:
VISTA website
Advanced information on technical, observing and data issues
VISTA Science Archive